We all know that music has the power to uplift, to affect and effect change, to inspire, to excite and to offer insight and even revelation. Still it is a surprise when in these times of isolation and confinement, we discover what people think and feel about music and how it changes their lives.
I curate a weekly online concert series in Chelmsford in Essex; my friends, colleagues and students are generous with their talent and time in sharing their creative and performing skills. We are in our fourth week of Wednesday lunchtime concerts and intend to keep it up until we can all meet again in the flesh for the live gigs at the Cramphorn Theatre in Chelmsford.
These free concerts have been going now for some thirty years and we have touched the lives of countless folk in the community with a special needs gig once a month being my particular favourite. What has struck me since the online concerts began has been the human response to the act of reaching out; the comments and feelings of audience and performer alike. I feel it is worth quoting some sentiments and narratives associated with our experience to date.
"How I love this music, I do hope it comes across in the recording", so said a 16 year old cellist who gave us a moving account of some Ennio Morricone.
"Hey Jeff, distance jazz, is that actually possible? Let's try", this with grateful thanks to my friend Sam.
"It is the young folk that I like the best, they are so focussed and talented. Will they be coming along to the theatre?", this from one of our 'regulars' who usually takes two hours and three buses to get to the gigs and now enjoys them at home.
"I was just so happy to do something musical and to have a project Jeffery", Rachel the young professional musician shared these sentiments and her not inconsiderable skill to the series.
"It's the look on their faces dear, they are really concentrating, you can see it means a lot to them and how did they manage such a big group? Oh yes, Bill and I settle with a sandwich for these lovely people". Grateful thanks go to Mrs E and her friends for their constancy and enthusiasm.
I have been most moved by the contributions from young composers to the series; from polished pop ballads to crooning ukulele songs, funky electronic music to contemplative ambient sounds. "Oh he's lovely" says Emily from the care home, "More of him please".
Other audience members tend to share what music means to them. How a song from the great American songbook has such importance and touches upon personal and often intimate memories. "He would whistle that tune all day if you let him, silly old fool. What I would give to hear him do that again". My thanks go to June, for allowing me this quote.
As musicians we are used to engaging with audiences and with the art form in many situations. Be it the theatre or a club, the concert hall or an open air gig, in workshop activity, in rehearsal, for a recording or even just for fun. These recent months have revealed to me that as artists we can be a beacon that has a relevance to a sense of community. There will always be a need for music but there has to be an audience for the music to be truly alive.
We here in Chelmsford are looking forward to a return to the 'live' experience, in the meantime you can find us here on https://www.facebook.com/chelmsfordtheatres/
Should you be interested in my work then please visit –
https://www.jefferywilson.co.uk/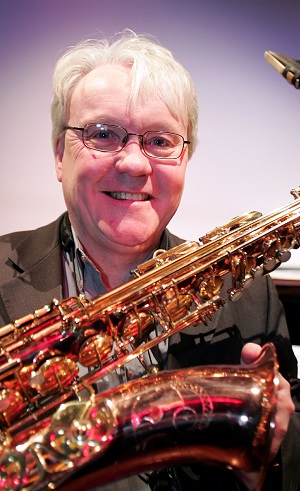 By Jeffery Wilson
– One of the Country's foremost composers, performers and educators in music.