CEO of She Music Global, Keisher Downie, gives us an insight into her All female music agency and tells us why she thinks that female musicians need to assert their worth more in order to succeed.
"I know, I know you've probably read my statement title and as a hard working female musician you feel outraged – don't start throwing your bras at me yet, I have enough of my own thank you very much.
I'm part of this touchy topic too, let me explain…
When I started She Music Global (formerly 'S.H.E!') in 2010, I had no idea that it would be so difficult to find female musicians and put a band together!
Like a lot of start-up musicians, I'd played the function scene and then I had this novel idea to start an all-female jazz band.
With such a strong faith that this was going to work out exactly how I planned it in my head, I booked a gig long before I'd even got a band together.
I convinced myself that we were going to be the best, most unique outfit out there and instantly start earning hundreds per week from our busy schedule of high profile gigs.
All I needed was the band to make this happen, the idea was beautifully simple, but I learnt a tough lesson that it wasn't going to be easy.
Oh God, I remember it all so vividly. It was a cold Sunday evening in October in Scream studios, Croydon. The sky was so dark and the rain was pouring down in bucket loads. I discovered a leak in the ceiling of the studio as water started falling like perfect little teardrops on top of the application forms I had painstakingly created to screen my future superstars! That's right, I had taken this whole process very seriously and this first mishap set the tone for the evening that followed.
As the clock struck 6.30pm, aka "showtime', I excitedly opened the door of my audition room expecting to see at least thirty women with shiny instruments in their hands, warming up their wrists and hitting drum sticks on their thighs, whilst politely wishing each other luck as they were about to compete to be in the greatest girl-band in the world and… boy, was I wrong!
A grand total of two people were outside that audition room door and one of those was actually a man with long hair walking past on his way to the gents toilet. So, that just left one young lady with a shiny instrument in hand, coupled with an aura of uncertainty as to whether or not she was right for the job. Little did she know that no-one else had turned up, so by default, she'd already got the job before she'd even walked into the room! (Of course I wasn't going to let her know that as I'd watched The X-Factor and had my Simon Cowell 'we'll let you know' speech and poker face down to a fine art).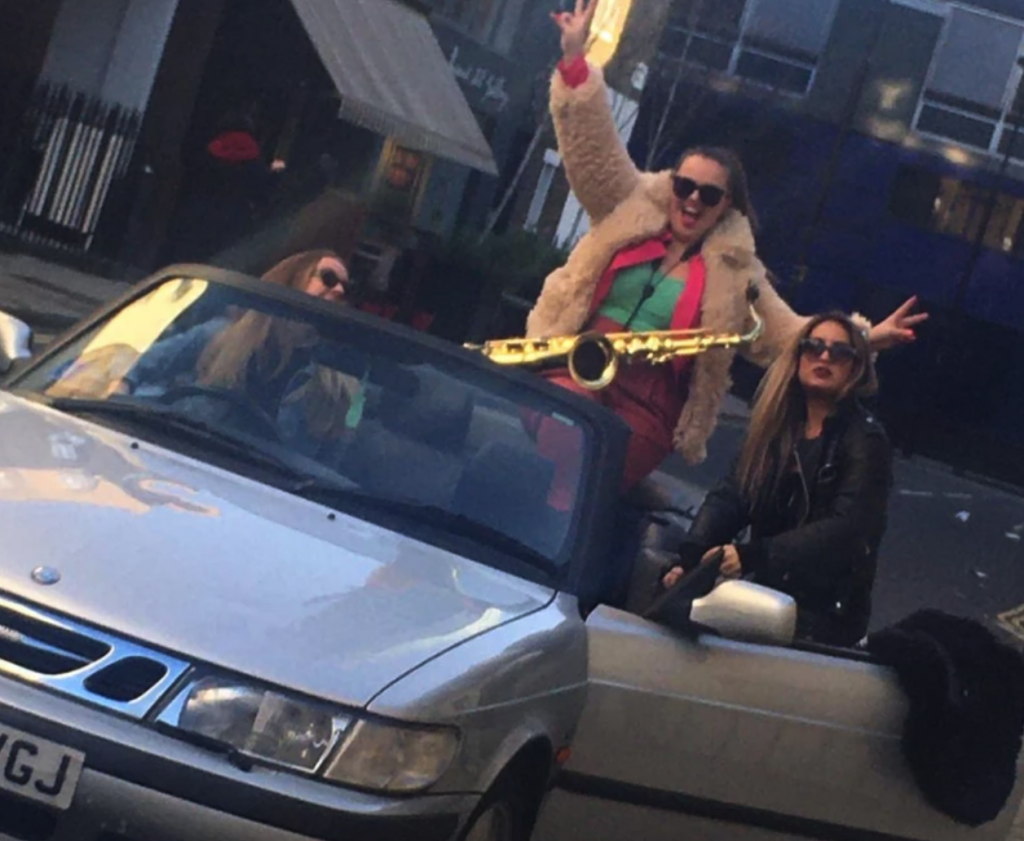 A few more women dripped in over the next 2 hours, all of whom could barely ask for an application form and look me in the eyes at the same time.
When they played they were all good musicians, but they ALL lacked confidence which was glaringly obvious by their eyes down, lip-biting and other nervous habits displayed in their audition performances. At that point, I was just grateful they had shown up at all and so, they all got the job and I managed to put together a 6 piece band that day to play a gig the next month!
Now I had the band, but I also had a big problem. We were nowhere near ready to perform to a fee paying audience. There was no choice but to move through this, there were bills to pay and the show had to go on!
We called ourselves the Jazz Vixens (not the best name on reflection) and I'll be honest… we were not very good. I had so many sleepless nights trying to figure out why it wasn't working. Was it me? Was it them? Was it because there was a lack of male energy? In rehearsals one would play too fast, then another played her own improvised notes and what bothered me the most is that no-one looked at each other or more importantly, no-one looked at me. I was the band leader, the front woman so they were supposed to look at me for direction, but instead, everyone's heads stayed down with their eyes fixed on their music charts.
Everything felt rigid and you could hear that reflected in the music. Individually each musician was great, all the parts were there, but when we played together it just didn't feel right.
We made the effort to rehearse weekly and we did get better as we relaxed in each other's company, but there still was that nagging something that didn't feel right.
After rehearsals, we'd chat and I noticed that when we complimented each other, each compliment was often met by the receiver with a negative 'oh no, but I need to work on X'. This seemed strange to me as I remembered working in bands with predominantly male musicians over the years, no-one ever talked themselves down in this way. I've complimented many male musicians, even those who weren't that good (dressing room small talk) and their response was either a humble 'thank you' or a positive affirmation of 'cheers mate, you too'. I never heard any negative self-talk (even from the ones who actually weren't that good!).
That was my 'A-HA' moment as I realised that over the years it was the musicians with oodles of confidence who really stood out, not just the ones who were technically good. We needed charisma and to tell our audience we had the right to be here, we could shred for our lives, shine by singing our lungs out, show off with our drums fills, even if it was just in the humble settings of places like the Working Men's Club in Great Ayton to start with. I realised if we were too afraid to show off our talents in the smaller places, how were we ever going to show off our talents if we managed to get the bigger performance opportunities.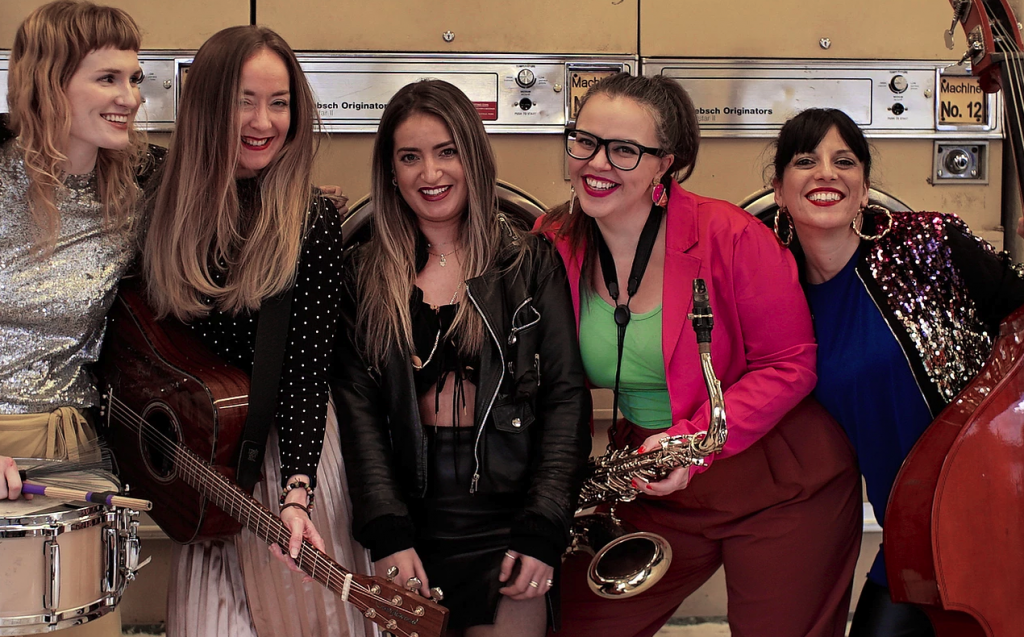 Over the years the band evolved. I never gave up, I just came up with different ideas to improve and work out what makes the difference between a musician that can play well and a musician that can command the stage. I wanted to learn how to capture and consistently cultivate that magic.
Through this process I transformed our niche Jazz band to a Popular music function band and created 'She Can Jam' which is a workspace for female musicians. The main missions of SCJ are;
A space that nurtures and supports aspiring performing musicians from a base level upwards
To create a safe space that builds confidence and promotes the brilliance of female energy in the music industry where women are actively encouraged to take centre stage. *SCJ isn't a women-only space and male musicians are very welcomed as we want to ensure realistic live environments for women to enjoy performing in, especially for those who want to develop careers as working musicians
To offer a great place to network, pick up more gigs, practice your craft and feel safe to express your musical creativity.
Over the years the company has flourished and the musicians have evolved into a super network of kick-ass, confident women who know what they want, when they want it and are BRILLIANT at their jobs which include playing many high profile gigs all around the globe.
As an employer, this attitude makes a huge difference. Confidence develops from knowing your worth and my girls know theirs (I'm so proud of my girls as I'm sure you can tell!).
The fact is this, there may not be as many women as men to prove that we are amazing players but there are enough to prove the point and I can assure you there are hundreds more that have joined the scene since my dismal start in 2010 and it warms my heart.
Confidence isn't something that comes naturally to most women.
Unfortunately there is a culture where girls are taught to feel self conscious about their looks, hair, clothes, make up nails, before even thinking about their abilities and practical strengths, which I think has had an insidious impact on the way women are able to feel instinctively deserving in their own skin and being able to own their space compared to their male counterparts.
So I'm here to tell the girls (and boys) reading this, practice really does make perfect.
Practice telling yourself that you are great.
Practice the feeling of someone telling you that you are good at your job and that feeling of knowing that it's true.
Practice saying thank you and acknowledging your achievements because you have worked hard for them!
Practice your craft and practice looking into the audience and showing off your amazing talent that others would love to have.
It really is a blessing.
As I said at the beginning, I'm preaching to myself too. There's nothing more solid to knock your confidence than focusing your attention on a new baby and then working hard to find out who you are again.
I need to practice too!"